FBC understands that it can be difficult for their members to provide benefits for themselves and their employees. Small businesses have only a few options to choose from that are often very costly and require medical underwriting.
To help solve this problem, FBC has created a small group insurance plan called "InsurPak".
Remember Emily? There is more to Emily's story and her healthcare coverage. After discussing options with her FBC representative, Emily has added InsurPak to her plan. Now she has both her routine expenses (Vision, Drugs, Health and Dental) addressed and has coverage for catastrophic events, should they occur.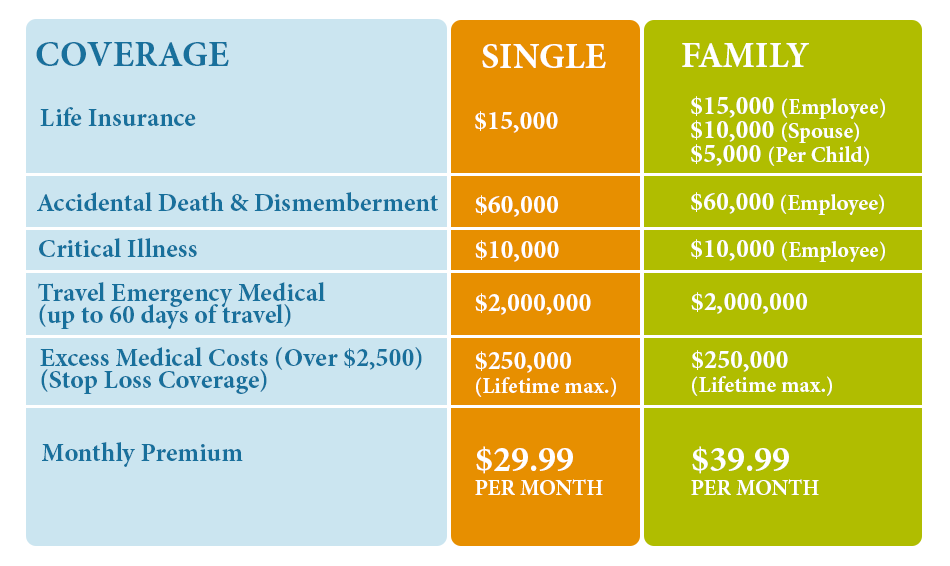 FBC Insurpak Coverage (to age 65) (Insurance covers unplanned expenses) Unplanned expenses can be a financial burden, which is why FBC Insurpak provides premium based insurance coverage for Life, Accidental Death, Critical Illness, Travel Emergency Medical, and Excess Medical Coverage.
Who is Eligible? All employees under the age of 65, working a minimum of 15 hours per week (averaged over latest 3 month period) are eligible for coverage. There is no medical underwriting required. All are eligible. For family coverage, a spouse or common law spouse (min 1 year cohabitation) under the age of 65 is covered. Dependent children under 21 or 25 (if a full time student) are also covered.
Do I have to complete a Medical? NO
I'm a Sole Proprietor, do I qualify? Yes you do! In fact, Insurpak provides the insurance components required by CRA for Sole Proprietors and, in turn, allows you to add the FBC Health Spending Account for your routine health and dental expenses. To calculate the annual limits for the health spending account portion you add $1500 per adult and $750 per dependent child. For example, a husband and wife with 2 children would have an annual HSA limit of $4500.
I own a corporation, do I qualify? Yes you do! Corporations of all sizes qualify for Insurpak, however, the insurance is not mandatory in order to utilize the FBC Health Spending Account. Corporations, because they are a separate legal entity from their owners, are treated differently in the eyes of CRA and are not required to purchase Insurpak in order to utilize the FBC HSA benefits. Insurpak is optional but a great way to provide an affordable benefit for you and your employees!
Enroll Today! Enrolling in the Insurpak program is quick, easy, and can be done on-line by clicking HERE. If you prefer to speak with a representative for more information or to enroll over the phone, please call 1-844-FBC-DESK.